Turkey COSMUS – Museum Activities
Object Drawing Activity
A drawing activity was held under the leadership of our school's art teacher, who is in the museum construction team. Students drew some of the artifacts in our museum. During this activity, students learned various on site sketching techniques and drew with basic pen and pencil. It was aimed to meet cultural accumulation with art. Students were able to learn while having fun. Some of the drawings are exhibited on the project board in the corridor part of our museum.
Making Traditional Raw Meatballs
This food, in which many vegetables, spices, bulgur and raw minced meat are used, has been brought to the cuisine of our province as a result of migrations from the southeast of our country. We held this event with the participation of the parents of one of our students in the orient corner of the main part of our museum. Our students were given detailed information about the materials used during the making of raw meatballs and all the stages. A tasting event was held at the end of the event.
Play Dough Activity
Our kindergarten students modeled the objects in our museum that are still used in daily life with play dough.
Virtual Museum Tour and UNESCO Cultural Heritage Display
Virtual museum tours were held to some museums in our country. Some works on the UNESCO cultural heritage list in our country were shown and promoted.
Mini Concert
A short concert was held with the participation of our music teacher. They sang traditional and local folk music songs together. In addition, traditional instruments such as baglama, tabor and cura were introduced.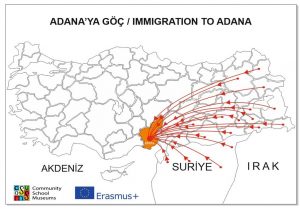 Short Trip To Our Museum
İsmail Sefa Özler Secondary School Museum held its first exhibition on September 13, 2021. The museum, whose main story is Immigration to Adana, consists of 2 parts.
-Main Part: This is the section where the objects and artifacts exhibited are located.
-Corridor Part: In this section; posters of our partners, information about the project,(such as activities, mobilities and aims of the project) painting works, papers written by students about their own culture are exhibited.
Some of the works exhibited in the museum are:
Such as traditional clothes, musical instruments, cooking tools, old carpets and rugs, old agricultural tools, music and video casettes, typewriter, turntables.
"Our colleagues, students and their families actively participated in the collection of artifacts. The majority of the artifacts are selected from objects suitable for the story of our museum. Selected artifacts; It reflects the culture, lifestyle, art and diversity that our community has added to our city through migration. We preferred the largest indoor area in our school for the exhibition of the artifacts. Descriptive names were placed in front of the works, bilingual in Turkish and English."
You can take a short 3-minute museum tour by clicking on the link.